The Lakota Way of Strength and Courage: Lessons in Resilience from the Bow and Arrow (Paperback)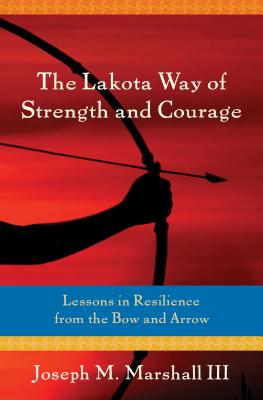 $19.95

Usually Ships in 1-5 Days
Description
---
In the mythic tradition of the Lakota, the bow and arrow were more than just tools—they were symbols of flexibility and strength. In this treasury of teaching stories, history, and piercing cultural insights, storyteller and craftsman Joseph Marshall III considers the metaphor of the bow and arrow as a path to personal growth, better resilience, and a life lived with true integrity.
About the Author
---
Joseph M. Marshall III is a teacher, historian, writer, storyteller, and a Lakota craftsman. He was born on the Rosebud Sioux Indian Reservation in South Dakota and raised in a traditional native household by his maternal grandparents. He has published nine nonfiction works including The Lakota Way: Stories and Lessons for Living and To You We Shall Return: Lessons About Our Planet from the Lakota, three novels, a collection of short stories and essays, a children's book, and was contributing author in five other publications; and has written several screenplays. Several of his books have been published in French, Hebrew, Korean, Japanese, German, Italian, Chinese, Romanian, Portuguese, Spanish, and Bulgarian.

In addition, Joseph has had several major screen appearances, including a role in the television network movie, Return to Lonesome Dove, and as a technical advisor and narrator for the Turner Network Television (TNT) and DreamWorks six part mini-series Into the West. Joseph has been recognized for his writing, scholarship, and service with numerous awards, including the Wyoming Humanities Award and the 2009 Benjamin Franklin Award for Historical Fiction. He is also a practitioner of primitive Lakota archery, having learned from his maternal grandfather the art of hand-crafting bows and arrows, and is a specialist in wilderness survival.

Joseph and his wife Connie (also his literary agent and manager) are the parents of a blended family and have sixteen grandchildren. For more about Joseph's writings and appearances, please visit www.thunderdreamers.com.
Praise For…
---
"Joseph Marshall is a master storyteller who reveals profound principles of ancestral wisdom. In a brilliant weaving of metaphorical teaching, Marshall shares a treasury of insights for living a life of strength, purpose, and simplicity. This is such an important book for our times!" —Sandra Ingerman, author of Soul Retrieval and Awakening to the Spirit World

"Joseph Marshall weaves the magic of narrative storytelling with his own personal wisdom to beautifully portray the Lakota and Native American perspective of life and living. This book will make its readers see their own lives through a different filter and will contribute to a shift toward connected and fulfilling community." —Ann Marie Chiasson, MD, Assistant Professor of Medicine, Arizona Center for Integrative Medicine, University of Arizona

"As the peoples of both the Western and indigenous world reshape themselves in response to our time of unparalleled changes, The Lakota Way of Strength and Courage provides us with a mirror in which we may all contemplate our reflection. This is a book in which a traditional story offers us an interesting bit of advice: 'If you do not know who you are, then it does not matter what you believe.' In this book, Lakota lineage holder Joseph Marshall has made very good medicine indeed." —Hank Wesselman, PHD, anthropologist and award-winning author of Awakening to the Spirit World, The Bowl of Light, and The Spiritwalker Trilogy

"In The Lakota Way of Strength and Courage, traditional elder Joseph Marshall gives us an in-depth, intimate view of pre-reservation Native American resourcefulness and values, as well as how they can inspire us to develop our own purpose, strength, and resilience." —Nicki Scully, author of Becoming an Oracle and Planetary Healing

"The Lakota Way of Strength and Courage is an exquisitely crafted and inspiring book, representative of a vanishing genre of work from elders who have lived before our modern times." —Lewis Mehl-Madrona, author of Coyote Medicine