North of the Platte, South of the Niobrara: A Little Further into the Nebraska Sand Hills (Paperback)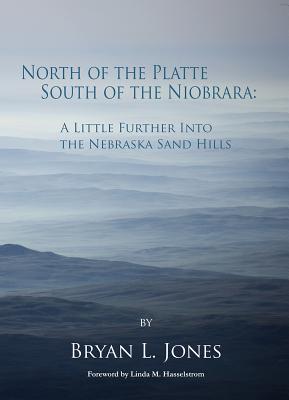 Staff Reviews
---
Books about the vast Sand Hills region of Nebraska are scarce,  and it follows that good books about the area are rare indeed.  Bryan Jones has waded into this enigmatic landscape with tape recorder, wife, dog,  and the tenacity of a much admired 27 year teacher of middle school students. He trains his persistence on  Sand Hills folks until he unravels their affection for these hills and gets the story. While focusing on McMurtrys, Sandoz, Purdums, Kimes, Wards and other residents Jones rounds up the whole neighborhood.  He's found many people who love these Hills and lets them talk. Even Bryan's geologists and hydrologists reveal an enthusiasm for this region that is essential to helping us and them understand this very uncommon place.  Bryan writes with clarity, grace and humor and as a biographer of place mostly keeps his prejudices corralled. His love of our neighborhood, however, is evident on each page just as it is in his previous books: Family Farming and Mark Twain Made Me Do It.  This is a great  book about the Sand Hills of Nebraska and we will be forever grateful to Bryan Jones for the years he spent researching and writing North of the Platte South of the Niobrara.
— Duane
Description
---
Filled with adventurous writing, sharp scrutiny, meticulous and audacious use of language, North of the Platte, South of the Niobrara: A Little Further into the Nebraska Sand Hills winds around its subjects the way the rivers and creeks of the Great Plains twist around humps of prairie grass, ranches and rock outcroppings.  The ambitious goal of author Bryan Jones was to create a fresh understanding of the Nebraska Sand Hills from the inside. Surely he has done that, and more. He reflects with almost unbearable poignancy on war and its consequences, and with fierce advocacy on two beloved Nebraska poets. He brings humor and occasional cynicism to reflections about "the metaphysical and metaphorical aspects" of the Sand Hills, Ted Turner and other newcomers, the Sandoz family and other old-timers and a considerable chunk of Western history.
About the Author
---
BRYAN JONES received his BA from Roosevelt University in Chicago and attended graduate school at the University of New Orleans, University of Nebraska at Kearney and Middlebury Breadloaf School of English. He previously published The Farming Game, Mark Twain Made Me Do It & Other Plains Adventures, and his work was reprinted in the nonfiction anthology. He lives somewhere in the American West with his wife Kathy.