11 in '11: A Hometown Hero, La Russa's Last Ride in Red, and a Miracle World Series for the St. Louis Cardinals (Hardcover)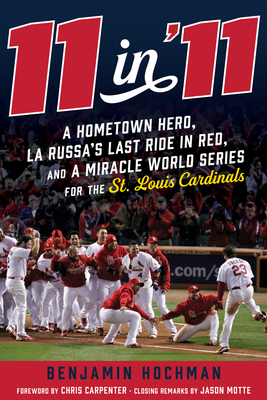 $28.00

Usually Ships in 1-5 Days
Description
---
11 in '11 is a thoroughly reported chronicle of an unparalleled season, packed with interviews with key players, team executives, broadcasters, and more 
Of the 11 World Series titles the St. Louis Cardinals have won in their formidable history, 2011's victory stands out as something different, something magical. It was the work of a team that seemingly had no business even playing in October yet one that stared down defeat over and over again, refusing to back down until the trophy was theirs.  
St. Louis Post-Dispatch columnist Benjamin Hochman offers on-the-ground and behind-the-scenes perspective as he brings to life a cast of characters including Albert Pujols in his final year as a Card, team ace Chris Carpenter, Yadier Molina showing his might both behind and at the plate, and of course the unlikely hero David Freese.  
Go inside the front office to see how this roster was constructed; relive the blistering final stretch of the regular season which saw the team winning 20 of its last 28 games; experience the palpable energy of Busch Stadium during Game 6, where Hochman watched enthralled as a fan. 
This is the definitive account of a championship run no Cardinals fan will ever forget. 
About the Author
---
Benjamin Hochman is an award-winning sports columnist covering the Cardinals for the St. Louis Post-Dispatch. He has previously written for the Denver Post and the New Orleans Times-Picayune. He is the author of The Big 50: St. Louis Cardinals and the co-author of If These Walls Could Talk: Colorado Rockies and Fourth and New Orleans: How Tulane Football Survived the Aftermath of Hurricane Katrina.
 Chris Carpenter pitched for the St. Louis Cardinals from 2004 to 2012 and won the Cy Young Award in 2005. He resides in St. Louis, Missouri.
 Jason Motte was a reliever for the St. Louis Cardinals from 2008 to 2014. He resides in St. Louis, Missouri.