In Scoring Position: 40 Years of a Baseball Love Affair (Hardcover)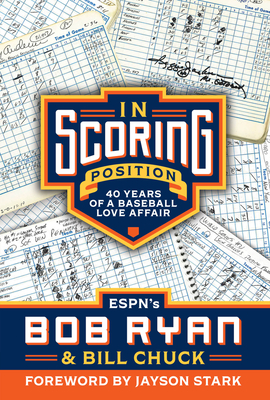 $28.00

Usually Ships in 1-5 Days
Description
---
A love letter to the game of baseball from one of America's foremost scribes

Bob Ryan has scored every baseball game he's attended, at every level, since the start of the 1977 season. It's a deeply personal tradition still going strong at more than 1,400 games and counting.

The tattered scorebooks he's filled are worn from age, travel, and countless summer days, but their grids and scrawled symbols tell the stories of milestones, rivalries, rare historic achievements, and more.

In Scoring Position captures the incomparable spirit of baseball, with its infinite possibilities and madcap anomalies. Ryan, alongside baseball historian and statistician Bill Chuck, has scoured his scorecard archives for the most singular events—a switch-hitter being hit by a pitch from both sides of the plate in the same game; a player batting for the cycle off four different pitchers; even back-to-back pinch-hit home runs with two outs in the 9th.

Featuring some of the game's biggest names and wildest scenarios, this is a fascinating romp through baseball history, exuding a pure zeal for this sport that fans of all teams will recognize in themselves.

Part of the collection at the library of the National Baseball Hall of Fame and Museum, this volume also features reproductions of dozens of scorecards from Ryan's collection.
About the Author
---
Bob Ryan was a sportswriter for The Boston Globe and a four-time winner of the National Sportscasters and Sportswriters Association National Sportswriter of the Year Award. He retired in 2012 after 44 years on the job. In 2015, he received a PEN/ESPN Lifetime Achievement Award for Literary Sports Writing. He is the author of Scribe: My Life in Sports. 

Bill Chuck is a baseball writer and researcher. With Jim Kaplan, he is the author of Walkoffs, Last Licks, and Final Outs (Baseball's Grand and Not-So-Grand Finales).