Bead Jewelry Making for Beginners: Step-by-Step Instructions for Beautiful Designs (Paperback)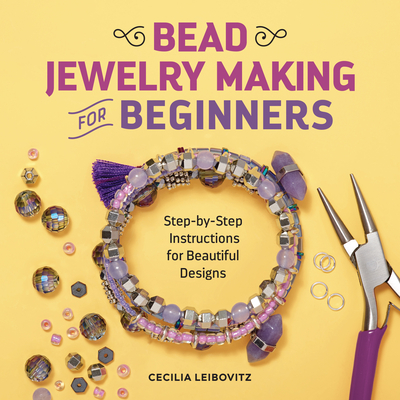 Description
---
Gorgeous beaded jewelry, handcrafted by you―a beginner's guide
Have you ever seen an amazing piece of beaded jewelry and wondered how it was made? Now you have the secrets! This jewelry-making guide for beginners shows you how to create incredible necklaces, earrings, and bracelets that you'll love wearing and sharing.
Master everything from picking the perfect beads to making your own findings (functional pieces, like clasps and earring wires). You'll even get helpful advice for starting your own jewelry line.
Beading for beginners―Discover various types of beads, the must-have tools, and the beading techniques that every aspiring jeweler needs to know.
Practice makes perfect―Hone your skills on 21 stylish designs―each featuring detailed instructions that outline the necessary supplies and skills.
Craft into business―Finished some pieces but not sure what to do with them? This jewelry-making book offers professional advice on how to promote and sell your work.
Whether you want to create great-looking jewelry for yourself or gift giving, this beginner's guide makes it easy.
About the Author
---
CECILIA LEIBOVITZ is a Vermont-based jewelry designer and artist. Before launching her own line of wedding keepsake jewelry at CeciLeibovitz.com, she worked in the Home Collection at Ralph Lauren, produced hair accessories for New York City milliners, and created a jewelry collection for April Cornell.
Praise For…
---
"If you're new to jewelry making and looking for a book that provides the basics, this book is a great starting place. It covers how to open and close a jump ring, how to use a crimp bead, and how to form basic knots. It is easy to source all the supplies that you will need online, making this book not only a great learning tool, but inspiration for projects that you can actually create!"—Becky Nunn, Nunn Design

"It can be really overwhelming and intimidating to make jewelry because there are so many types and colors of beads—not to mention findings, wire, cord, and especially techniques. Bead Jewelry Making for Beginners will help you choose everything you need and offers plenty of jewelry designs with progressive skill levels. Every project in this book has a step-by-step guide filled with beautiful pictures, and if, like everyone else, you have a busy schedule, you will appreciate that the book includes the approximate amount of time needed to complete each project and a difficulty rating. I found this to be very helpful. As a bonus, you'll also discover great tips and advice for those that wish to sell their finished pieces."—Cynthia Kimura, president & chief jewelry designer, Artbeads.com

"Bead Jewelry Making for Beginners is a great base coat for anyone new to beading and wants to get their creative engine going. . . . My favorite part is how Cecilia layers techniques from easy to more complicated, rather than hop scotching around. It's a make-sense book for any beginning beader who wants knowledge and inspiration. Cecilia also does't use an excessive amount of beads or tools, which is often overwhelming to new beaders. And the section at the end on how to sell your jewelry is a good gateway for the new jewelry artist."—Janice Parsons, founder of beadshop.com