Rail-Trail Hall of Fame: A Selection of America's Premier Rail-Trails (Paperback)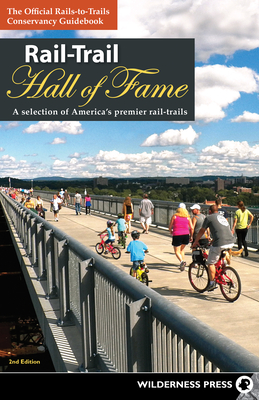 $16.95

Usually Ships in 1-5 Days
Description
---
Hike, Bike, or Ride on America's Premier Rail-Trails with This Official Guide
All across the country, unused railroad corridors have been converted into public multiuse trails. Rails-to-Trails Conservancy recognizes the best of them through its Rail-Trail Hall of Fame. Selections are based on scenic value, amount of use, amenities, historical significance, excellence in management and maintenance, community connections, and geographic distribution. These Hall of Fame rail-trails are found in 29 states and in nearly every environment--from downtown urban corridors to pathways stretching across wide-open prairie, along coastlines and through mountain ranges.
In Rail-Trail Hall of Fame, the experts from Rails-to-Trails Conservancy present the 33 best rail-trails--from Massachusetts' Minuteman Commuter Bikeway to Mississippi's Longleaf Trace to Oregon's Springwater Corridor. You'll appreciate the detailed maps for each trail, plus driving directions to trailheads. Quick, at-a-glance icons indicate which activities each trail can accommodate, from biking to fishing to snowmobiling. Best of all, the succinct descriptions are written by rail-trail experts, so you know it's information that you can rely on As an added bonus, this official guide takes a look at the fascinating railroad history behind each trail.
These rail-trails represent pioneers of the movement; they inspired trail development across the nation, or they've revolutionized how trails impact communities along their routes. Whether you're on feet, wheels, or skis, you'll love the variety in this collection
STATES REPRESENTED
Alabama, Arizona, California, Florida, Georgia, Idaho, Illinois, Indiana, Iowa, Kansas, Louisiana, Maryland, Massachusetts, Michigan, Minnesota, Mississippi, Missouri, New York, Ohio, Pennsylvania, Rhode Island, South Dakota, Utah, Vermont, Washington, West Virginia, Wisconsin
About the Author
---
Rails-to-Trails Conservancy is a nationwide nonprofit dedicated to converting former railroad corridors to public, multiuse recreational trails that offer easy access to runners, hikers, bicyclists, skaters, wheelchair users, and equestrians. It serves as the national voice for more than 160,000 members and supporters, more than 24,000 miles of open rail-trails across the country, and more than 8,000 miles of potential trails waiting to be built--with a goal of ensuring a better future for America made possible by trails and the connections they inspire.