The Book Of Camping And Woodcraft (Legacy Edition): A Guidebook For Those Who Travel In The Wilderness (Paperback)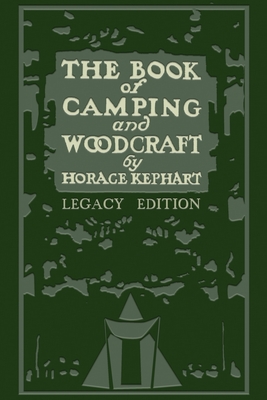 $17.99

Usually Ships in 1-5 Days
Description
---
Kephart's original how-to manual for the outdoors
This is the original handbook from the master of outdoors instruction. In this Legacy Edition premium reprint of the first version of Kephart's masterwork (in its final fifth edition printing), learn all of the essential, but often forgotten skills of classic camping and outdoors travel, including camping, camp cookery, clothing, hiking and wayfinding, outdoors gear and outfits, beating bugs and the elements, handling emergency situations, woods tools and axemanship, catching your dinner by hunting and fishing, and tanning skins and pelts.
This first version of this book (in its final fifth edition, printed 1912) is the shorter, more concise publication compared to Kephart's later expansion of this work, called Camping and Woodcraft from 1917 (over 800 pages total sold as two volumes combined). Note: This printing is of the fifth edition of the first version (1912), not the first edition (1906). It has been expanded by the author from the previous four editions.
About the Doublebit Press Library of American Outdoors Classics
With technology playing a major role in everyday life, sometimes we need to take a step back in time to find those basic building blocks used for gaining mastery - the things that we have luckily not completely lost and has been recorded in books over the last two centuries. These skills aren't forgotten, they've just been shelved. It's time to unshelve them once again and reclaim the lost knowledge of self-sufficiency.
As a part of the Doublebit Press Library of American Outdoors Classics, this Legacy Edition volume is reprinted in the exact form as it was presented in the original publication. Great care has been taken by the publishing team to preserve this work with clean images, clear text, and high-quality photographic editing.
For outdoors enthusiasts who demand the best from their equipment, this Doublebit Press Legacy Edition reprint was made with you in mind. Both important and minor details have equally both been accounted for by our publishing staff, down to the cover, font, layout, and images. It is the goal of Doublebit Legacy Edition series to preserve outdoors heritage, but also be cherished as collectible pieces, worthy of collection in any outdoorsperson's library and that can be passed to future generations.
Every book selected to be in this series offers unique views and instruction on important skills, advice, tips, tidbits, anecdotes, stories, and experiences that will enrichen the repertoire of any person who enjoys escaping the city and finding their way to the trails of the wilds. To learn the most basic building blocks of outdoors life leads to mastery of all its aspects. This book is an important contribution to the early American recreational outdoors literature and has important historical and collector value toward preserving the American outdoors tradition.
The goal of the Library of American Outdoors Classics is to preserve and share the works from forgotten teachers of outdoors life that form the cornerstone of the history of the American outdoors. Through remastered reprint editions of timeless classics of outdoor recreation, perhaps lost knowledge can be regained for future generations. The books in this library have been chosen because much of the basic skills and knowledge they contain have been forgotten or put to the wayside in lieu of more modern conveniences and methods. This volume is worth close study as well as collection by outdoors folk in the modern era of outdoors and traditional skills life.