The Boy Scouts Original 1910 Handbook: The Early-Version Temporary Manual For Use During The First Year Of The Boy Scouts (Hardcover)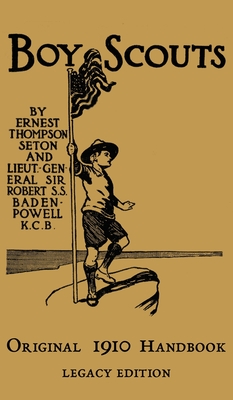 $28.99

Usually Ships in 1-5 Days
Description
---
Note: This is a reproduction of the original temporary version of the handbook for scouts in 1910. It is not the current edition of the handbook. Please refer to the organization for the latest edition of the handbook.
Starting A Legacy For Millions of Scouts
Enjoy this unabridged, high-quality Doublebit Legacy reprint of The Boy Scouts Original 1910 Handbook, which was the first temporary version of the Scout Handbook written by Ernest Thompson Seton for the Boy Scouts in the first year that the organization was founded.
At the birth of Scouting in America, there were two similar, but entirely different official handbooks that were published around the same time. The present book is the very first American scout manual, published in 1910 by Ernest Thompson Seton (the Original Edition Boy Scout Handbook). One year later in 1911, the Boy Scouts National Council approved the publication of an entirely different official handbook with all new content, the First Edition Boy Scout Handbook, with no official single author. This is one case in which the words "original" and "first" do not mean the same thing
This Original 1910 Handbook provides instruction on boy scout badges, tests, and activities as suggested by Seton from BP's Scouting for Boys book, but were not yet official with the organization. Additionally, the book provided instruction on Seton's primary interests in camping and outdoors skills, first aid, swimming, nature lore, animal tracking and identification, archery, fire starting, cooking, citizenship, and patriotism.
See the scouting principles and ideals as they were published at the birth of the organization in 1910 Although the times have changed and some of the material has become outdated since its publication, see how boy scouts were instrumental in early 1900s history and how they pushed forward with determination and great skill.
This book makes a perfect gift for Eagle Scouts and scout leaders or scout masters Being full of classic outdoors skills and information, it is also a great book for outdoorspeople, campers, backpackers, bushcrafters, and outdoors historians.
A part of the Library of American Outdoors Classics: Volume 7
This Doublebit Legacy Edition reprint of The Boy Scouts Original 1910 Handbook is professionally restored and presented from the original source with the highest degree of fidelity possible. Readers can enjoy this Legacy Edition for generations to come and learn from its timeless knowledge.
About the Doublebit Press Library of American Outdoors Classics
Sometimes we need to remember our history to move forward. With technology playing a major role in everyday life, sometimes we need to take a step back in time to find those basic building blocks used for gaining mastery - the things that we have luckily not completely lost and has been recorded in books over the last two centuries. These skills aren't forgotten, they've just been shelved. It's time to unshelve them once again and reclaim the lost knowledge of self-sufficiency
As a part of the Doublebit Press Library of American Outdoors Classics, this unabridged Legacy Edition volume is reprinted in the exact form as it was presented in the original publication. Both important and minor details have equally both been accounted for by our publishing staff, down to the cover, font, layout, and images. It is the goal of Doublebit Legacy Edition series to preserve outdoors heritage, but also be cherished as collectible pieces, worthy of collection in any outdoorsperson's library and that can be passed to future generations.