Camping And Woodcraft Volume 2 - The Expanded 1916 Version (Legacy Edition): The Deluxe Masterpiece On Outdoors Living And Wilderness Travel (Hardcover)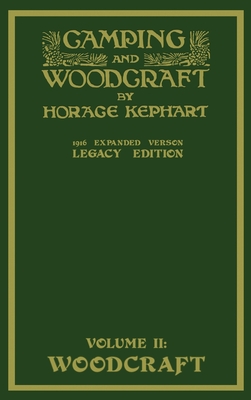 $33.99

Usually Ships in 1-5 Days
Description
---
The Deluxe Masterpiece on Outdoors Living, Bushcraft, and Wilderness Travel
This deluxe, unabridged reprint Legacy Edition of Horace Kephart's 1916 Camping And Woodcraft - Volume II served as THE standard for outdoors adventure for many decades after it was published, and continues that legacy today with its timeless knowledge it contains First published in 1916, this is an expanded version of Kephart's original 1906 work (The Book of Camping and Woodcraft Original Edition). This deluxe expanded version provides hundreds of additional pages of insights, tricks, tips, and skills instruction for thriving in camp and in the wilderness.
In Volume II - Woodcraft, Kephart provides detailed instruction on making your way in the wilderness and the lore of the woods. This includes nature lore and how to "read" nature and the various signs it shows, how to use trail blazes, how to sketch maps, types of backpacks, proper hiking technique for wilderness travel, marksmanship, woods tools and axemanship, log cabin building, knots, hitches, and rope, how to skin and dress trophy game, cave exploration, bee hunting, edible plants, living off the land, and how to handle accidents and emergencies.
This handbook was originally published in two volumes due to its size (see Camping And Woodcraft - Volume I - Camping). Volume I - Camping contains valuable instruction and advice on camping equipment, setting up camp, and camp cookery. This Doublebit Press Legacy Edition continues with that tradition by presenting the original volumes in their exact form as they were published by the now-defunct Outing Publishing Company. To have a complete set, readers will need to purchase Volume II as well.
Enjoy your copy of Camping And Woodcraft - Volume II for its historical record of the earliest days of recreational camping. Some material, of course, is past its time. However, most of the material is timeless Perhaps you may even learn an old skill or two.
This book makes a perfect gift for camping enthusiasts, outsoorspeople, campers, hunters, bushcrafters, scouts, and historians. This book represents the rich history of the camping tradition, and belongs on the bookshelf of every outdoors enthusiast
A part of the Library of American Outdoors Classics: Volume 20
This Doublebit Legacy Edition reprint of Camping And Woodcraft is professionally restored and presented from the original source with the highest degree of fidelity possible. Available in both paperback and hardcover, readers can enjoy this Legacy Edition for generations to come and learn from its timeless knowledge for years to come.
About the Doublebit Press Library of American Outdoors Classics
Sometimes we need to remember our history to move forward. Sometimes, remembering our heritage is just fun or inspirational. With technology playing a major role in everyday life, sometimes we need to take a step back in time to find those basic building blocks used for gaining mastery - the things that we have luckily not completely lost and has been recorded in books over the last two centuries. These skills aren't forgotten, they've just been shelved. It's time to unshelve them once again and reclaim the lost knowledge of self-sufficiency
As a part of the Doublebit Press Library of American Outdoors Classics, this unabridged Legacy Edition volume is reprinted in the exact form as it was presented in the original publication. Both important and minor details have equally both been accounted for by our publishing staff, down to the cover, font, layout, and images. It is the goal of Doublebit Legacy Edition series to preserve outdoors heritage, but also be cherished as collectible pieces.