The Death of Raymond Yellow Thunder: And Other True Stories from the Nebraska-Pine Ridge Border Towns (MP3 CD)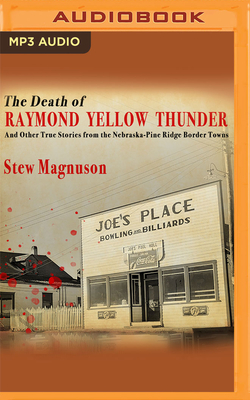 $29.99

PLEASE EMAIL OR CALL FOR AVAILABILITY
Description
---
The long-intertwined communities of the Oglala Lakota Pine Ridge Reservation and the bordering towns in Sheridan County, Nebraska, mark their histories in sensational incidents and quiet human connections, many recorded in detail here for the first time.
After covering racial unrest in the remote northwest corner of his home state of Nebraska in 1999, journalist Stew Magnuson returned four years later to consider the larger questions of its peoples, their paths, and the forces that separate them. Examining Raymond Yellow Thunder's death at the hands of four White men in 1972, Magnuson looks deep into the past that gave rise to the tragedy. Situating long-ranging repercussions within 130 years of context, he also recounts the largely forgotten struggles of American Indian Movement activist Bob Yellow Bird and tells the story of Whiteclay, Nebraska, the controversial border hamlet that sold millions of cans of beer per year to the "dry" reservation.
Within this microcosm of cultural conflict, Magnuson explores the odds against community's power to transcend misunderstanding, alcoholism, prejudice, and violence.
Like all good stories, The Death of Raymond Yellow Thunder spins against the way it drives. Even as the people of Sheridan County despise, scorn, exploit, assault, and kill one another, their lives, like objects slipping out of control, become more and more inseparable. Indians and Whites coexist and, against all odds, somehow get along, sharing space they really don't want to share. This countercurrent is the source of the many unexpected stories Magnuson brings forth." (Pekka H m l inen, author of Lakota America and The Comanche Empire)