Psalms for You: How to Pray, How to Feel and How to Sing (God's Word for You) (Hardcover)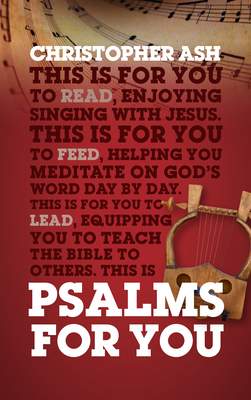 Description
---
Christopher Ash shows us how to read and apply the book of Psalms. He takes us through 15 pairs of psalms that represent various 'types'--including some that are very familiar and some that are often ignored.
He helps us to see how they are fulfilled by Jesus and therefore point to Jesus first and foremost, transforming how we read them, enjoy them and sing them.
Christopher Ash comments that this understanding of the Psalms can shape the dynamics of our Christian lives in ways that neither a dry and arid intellectualism nor a rootless emotionalism can do. The Psalms can make us Christians with deep feelings, deep emotions, deep thoughts, and deep desires.
About the Author
---
Christopher Ash has been a pastor, and is now an author and writer-in-residence at Tyndale House, Cambridge. He was Director of the Proclamation Trust's Cornhill Training Course from 2004-2015. He is married to Carolyn and they have four children and seven grandchildren.