MI6 Spy Skills for Civilians: A former British agent reveals how to live like a spy - smarter, sneakier and ready for anything (Paperback)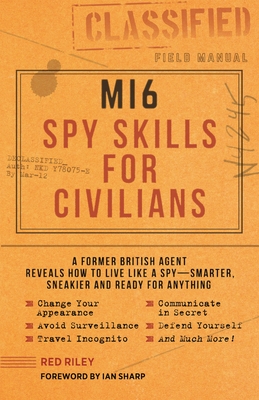 $14.99

Usually Ships in 1-5 Days
Description
---
JAMES BOND IS THE FANTASY. HERE'S THE REALITY.

- Written by a former SAS officer and MI6 operative for Her Majesty's Secret Service
- Details more than 100 skills, tips and techniques employed by spies to get the job done
- Packed with fascinating information about real-world spies and their cinematic counterparts
- Foreword written by a director of the James Bond film franchise

MI6 Spy Skills for Civilians shows you how to master the skills of a British agent in order to protect yourself and others, be sneakier and handle any situation - even if it involves escaping from a hostile foreign country. Inside you'll find dozens of real secret agent skills and tips detailed and explained, often with helpful illustrations to clarify how they're done.

Sections covered include:

- Surveillance
- Safe Travel Tips
- Dead Letter Boxes
- Brush Contacts
- Self Defense
- Innocuous and Natural Weapons
- Intelligence Gathering
- Subterfuge
- Covert Methods of Entry
- Insertion and Extraction Techniques
- And much more!

The book covers more than 100 tips and techniques in all, as detailed by Red Riley, a former SAS and MI6 operative. It's invaluable information formerly available only to a select few - and now it's available to you, too!

Includes a foreword by Ian Sharp, action director of the classic James Bond film Goldeneye.
About the Author
---
Red Riley joined the British Army at the age of 18. After basic training, he volunteered for Pilot Training and qualified as an operational helicopter pilot going on to serve in Germany, Northern Ireland, Canada, Belize and Cyprus. At the age of 36, he left the Army Air Corps and transferred to the SAS. In 1980, Riley was a member of the United Kingdom Counter Terrorist team, which laid siege to the Iranian Embassy taken over by heavily armed terrorists later that year. In 1982, Riley escaped internment in Chile during the Falklands War as part of an audacious top-secret attempt to attack the Argentinian mainland. In 1989, when Riley left the army, he was quickly recruited by MI6 where he served until 2015. His autobiography, Kisses from Nimbus, was published in 2017. Riley and his wife Carol now split their time between homes in Manchester, England and the Mediterranean island of Mallorca, Spain.

Ian Sharp is an English film and television director. Widely admired for his television and film work, he is perhaps best known as the second unit director of the James Bond classic, Goldeneye, starring Pierce Brosnan. His work on that film's action sequences are considered among the best in the series.